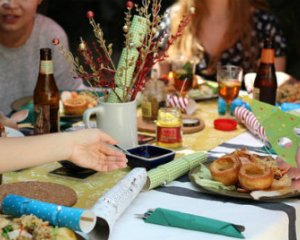 The National Food, Nutrition and Physical Activity Survey shows that most Portuguese do not follow the food wheel.
Among the main errors are the excessive consumption of meat and dairy products and the lack of fruits, vegetables and cereals intake in a sufficient level. In addition, Portuguese have an overconsumption of salt, don't follow Mediterranean diet and don't practice exercise regularly, concludes the biggest national food survey and physical activity ever made in the country.
The results of the Survey were presented on March 16, 2017, at the Universidade do Porto, and were obtained from interviews with 6,553 Portuguese from all over the country, aged between three months and 84 years. The health authorities did not have as much data about food and physical activity practices of the Portuguese population, since 1980.
When it comes to the consumption of "meat, fish and eggs", the results show that the population consumes this type of food three times more than it was expected. More than 3,500,000 Portuguese (44% of the population) consume more than 100 grams of meat per day, a sign of concern for the prevention of colon cancer.
Regarding fruit intake, one in two Portuguese do not eat the amount of fruit and vegetables recommended by the World Health Organization. Children and adolescents are who eat less.
Another worrying factor is related to the fact that 21% of the food ingested by the Portuguese appear not even in the food wheel. These are the drinks, nectars, juices, coffees, teas, wine, beer and other alcoholic beverages. Men consume more alcohol than women and older people more than adults. 5% of the elderly drink daily over a litre of wine.
A significant part of the Portuguese also exaggerates in salt intake, ingesting more quantities than the body can tolerate.
Half of the Portuguese are overweight
According to the study, nearly six out of 10 Portuguese (5,900,000) are obese or are in a pre-obesity situation. The elderly are the most vulnerable group. Out of 8 in 10 have abdominal obesity.
The Autonomous Region of Açores and Alentejo have the highest obesity prevalence and the Central and Northern Regions of the country the lowest.
With regard to the practice of physical activity, the results show that only 41.8% are dynamic. Children under nine years old are the most active (61%). The practice of physical exercise among the elderly is only 33%.
The National Food, Nutrition and Physical Activity Survey was coordinated by Carla Lopes, from the Faculdade de Medicina da Universidade do Porto (FMUP) and the Instituto de Saúde Pública da Universidade do Porto (ISPUP). The project results of a consortium amongst FMUP, the Faculdade de Ciências da Nutrição e Alimentação (FCNAUP), Faculdade de Desporto da U.Porto (FADEUP), ISPUP, Instituto Nacional de Saúde Doutor Ricardo Jorge (INSA), Faculdade de Medicina da Universidade de Lisboa, Faculdade de Motricidade Humana, Universidade de Oslo and the enterprise SilicoLife.
Image: Pixabay
Source: ISPUP
You may find the original article here